Spreading God's Message: The History of the Soho Baptist Church
Katherine Jones '18 and Laudie Porter '18
The building on 166a Shaftesbury Avenue has always been a location of Christian, Evangelical worship. The community it has served, and its size, has changed dramatically over its 130 year history. It started off belonging to one Baptist group, changed over to another Baptist group, and today is the location of the Chinese Church in London's Soho Outreach Centre. CCIL Soho is a building we have passed many times on our way to and from on various occasions. Being a 10 minute walk away from our home in London, it seemed like a perfect harmony of everything this program represents. We were sent here to understand the hybridity of London as it is today, and a Church, formerly used by white Baptists, now serving as a worship center, a social center, and a community center for Chinese Christians makes it a perfect example of that.
The information presented here was taken from a variety of sources, ranging from a dissertation on the social architecture of Chinatown to an interview. However, our most important resource was a book entitled A City Not Foresaken by Roger Stonelake. It followed the history of the church from its founding to CCIL's takeover. We pieced the puzzle pieces together with that book, but the other resources presented helped paint a larger picture about why CCIL needed this building, at this time, in this particular location. In the end, CCIL turned out to be a much larger organization than either of us expected it to be, and, really, perhaps that is why this project was so important. We not only learned about the extent of London's hybridity in a book–we experienced it for ourselves.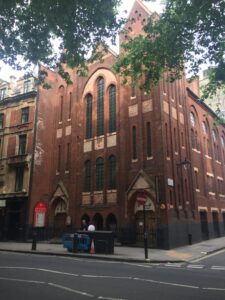 Pre-CCiL History:
Gower Street Chapel:
It all began with the Gower Street Chapel, where congregants known as Gadsbyites, or Strict Baptists, resided. These people believed only a select few of  God's chosen people, the Elect, would be allowed into Heaven. They had regulations on who were allowed to practice religious rites, as stated by the Strict Baptist Historical Society, "[we] believe that this privilege should be offered only to those who have been baptised by immersion as believers." ("Who are the Strict Baptists?"). This group had  a 99-year lease on their building, chose Henry Fowler as its first pastor, and the Gower Street Chapel began (Stonelake, 11).
Shaftesbury Chapel's Formation:
The  Shaftesbury Chapel emerged when the Gadsbyites eventually fell into disarray. After Fowler died in 1838, the Church remained indecisive about appointing a new preacher. Consequently, Gadsby and another preacher, John Warburton, began preaching conflicting ideas to the same congregation. Most of the congregation moved to Eden Street Chapel after the heavily unpopular Edward Blackenstock was chosen as successor (25). It was clear that the congregation was too large for the space, and a return to Gower Street Chapel was necessary. With the money from the sale of the old lease in hand, the church managed to buy their new Shaftesbury location. The building finished in 1887, and was formally titled "Soho Baptist Church" (26). The building was purchased by another Baptist group in the early 20th century, and was renamed the Gower Street Memorial Chapel. It stayed with them until purchased by the Chinese Church in London in 2004.
Chinatown and its Move to the West End:
In order to understand why the Chinese Church in London chose this location, it is necessary to understand the history of Chinese immigrants in London. Chinatown originally placed itself on the Docklands, on the East End of London. During the 19th century, with the thriving opium trade with China, Chinese sailors employed by the East India Company began making their home in the Limehouse and Poplar areas of London's East End (Shu-Yeng Chung, 15). This became a thriving area, filled with tea shops, laundry services, and general stores garnered around the Chinese population living there. With the Alien Restriction Act of 1914, the availability of labor and demand for Chinese amenities decreased. This, on top strict anti-opium deportation policies put in place in 1923 and an economic depression crippling the shipping industry entirely, convinced many Chinese immigrants to return to Hong Kong and China (Shu-Yeng Chung, 19).
In the end, the biggest reason the Chinese, as well as all the other communities who took residence there, had to leave the area was due to Black Sunday. On September 7, 1940, the Germans began brutally bombing this area to damage London's ship repair abilities as well as block access to the docks in general (Shu-Yeng Chung, 20). People were massacred in the thousands. As pointed out in this article from the Daily Mirror, with one bomb 500 homeless refugees got caught in the crossfire and were killed (The Daily Mirror, 2). The area was left decimated and the residents were stuck trying to rebuild their businesses and homes.
After the attacks, almost half of Poplar and Limehouse were destroyed. As stated by Shu-Yeng Chung, " Poplar was so badly hit that there was virtually a mass exodus, either to the West End, which was considered by many to be safer, or into the countryside further east in Essex." (Shu-Yeng Chung, 20). As such, the transition to the West End/Shaftesbury area had begun.
The transition from the Docklands area was not official until much later. In 1963, the London County Council made a mandatory purchase of the area, forcing the previous residents out. (Shu-Yeng Chung, 20). With previous residents already having moved to the West End, a new, thriving commercial area began forming. Especially with the return of British soldiers from China, an economic boom dominating the country since the 1950s, and a mass of Chinese people returning to London due to a political revolution which restricted religious practices, the area took off, and by the 1970s, Chinatown became a distinct region of its own. (Shu-Yeng Chung, 20).
Differences Between New v. Old Chinatown:
It is important to note the new Chinatown was based on an economic boom and want of a new economic opportunity (Shu-Yeng Chung, 21). In the previous iteration of Chinatown, most people living there were either working as a sailor or working to provide for the sailor community. (Shu-Yeng Chung, 16). As such, it was transient and dominated by single men. With the immigration taking place in the 1950s-70s, there was a higher concentration of Chinese women and families immigrating than ever before. As such, Chinatown was culturally much more focused on building lasting households in the UK, rather than serving entirely temporary residents.
CCIL and Soho:
The first gathering of the Chinese Church in London (CCIL) was on Christmas Eve of 1950. A small group of people led by Pastor Stephen Y T Wang met in Trafalgar Square to pray for an establishment of Chinese Christians in London ("Our History). On January 7th of the following year, they began official services. There were originally thirteen congregants, nine Chinese and four European. They attended the small gatherings that took place in Mr and Mrs K. T. Fan's home in Drayton Park (Stonelake 103). They moved around the city several times, even holding services in the YMCA near the Tottenham Court tube station (103). However, they had difficulties settling in because of the growing numbers of both attendees and staff. As a result, they moved frequently to accommodate their congregation. Consequently, they referred to themselves occasionally as the "church on the move" ("Our History").
In 2004, the Chinese Church in London acquired the Gower Street Memorial Chapel on Shaftesbury Avenue. CCIL was interested in purchasing the Gower Street Memorial Chapel for some time, but had difficulties acquiring the property in previous years. In the 1970s, CCIL determined the Shaftesbury area would be ideal because of its location (Stonelake, 104). Only a few blocks from the recently relocated Chinatown, this presented the perfect spot for CCIL to accommodate current and new members alike. However, when they asked Anglican officials about acquiring a property in the area around Chinatown, they found "nothing suitable was available" (104).
The Chinese Church in London began inquiring about the Gower Street Memorial Chapel (as the church on 166a Shaftesbury Avenue was known then) specifically in the 1980s and once again in the 1990s. These were met with no response, and no record of the request exists in the Baptist Church's minutes, despite the fact they were meticulous record keepers (105). It is possible this is because they were in between pastors at the time in the 1980s, and records were lost, but it seems more likely that the pastors at the time considered the inquiry to be outrageous and never deemed it worthy of a reply (105). No matter the reason, the Chinese Church in London was unable to acquire the property until the 2000s.
In the early 2000s, the Gower Street Memorial Chapel rented out the space to CCIL for baptismal services. After seeing the building, CCIL was convinced this was the perfect location for their ever-growing congregation (105). For financial reasons, the Gower Street Memorial Chapel finally closed in June 2002. The Chapel had always been a haven for young Christians, but as the area transformed, so did the people drawn to this particular Chapel. Young people and students, who normally frequented the chapel were no longer living in the Shaftesbury area and preferred to attend local churches instead (106). As a result, the Gower Street Memorial Chapel had fewer numbers of attendees than before. The administration from the Gower Street Memorial Chapel and the CCIL met in 2002 to start to discuss the sale of the building, which was finalized in May 2004. Because the building is a Class II* heritage site, special permits had to be granted before any refurbishment could occur. CCIL acquired these in 2004, and was able to renovate the building for £750,000 (Stonelake 107, "Soho Outreach Centre").
Today, the Chinese Church in London is invested in promoting Christian worship and Chinese culture among its congregations and the world. They continue to provide a space for youth as their predecessors did, through activities for babies, toddlers, children, and teens ("Outreach"). These events range from bible studies to sports clubs ("Outreach"). Additionally, they provide services for the community as a whole, such as English language classes, gambling recovery, rehab, and several types of professional therapy and counseling services ("New Leaf Counseling Service.", Chinese Church in London). CCIL also partners with missionaries around the world, many of which visit small churches in China, to spread the gospel and cultivate Christian worship. CCIL takes part in charity work in order to achieve these goals, working with other charities and ministries to provide resources for the villages they work with such as cataract surgeries and livestock (Chinese Church in London). Further, CCIL is interested in promoting social justice and caring for the environment, encouraging its members to be mindful of how their actions affect others and the planet (Chinese Church in London).
The Chinese Church in London continues to grow. It has four other properties, three of which were bought after the Soho location, and a total of seven congregations. CCIL offers services in Mandarin, Cantonese, and English. The Mandarin and Cantonese services are the most widely attended in the Soho location, with many first generation immigrants at an average age of 60 attending (Yu). These services are critical for immigrants because they provide a way of connecting with others and avoiding isolation ("London – Faith – Chinese London."). English services have only been offered at the Soho location for the past three years, but have quickly gained popularity among younger second and third generation immigrants (with an average age of 25 attending) (Yu). Because of the popularity of the Chinese services, English services cannot be hosted in the Soho Baptist Chapel and are instead offered at the Seven Dials Club, which CCIL rents out one day per week (Yu). As a result of  the Chinese services' very high attendance, CCIL is looking into expanding somehow, but this will be difficult because it is a class II* building, so parts of it have to be preserved (Yu). Formal measures have not been pursued just yet, but there is talk amongst the administration. This information can only be found if one talks to those who work at the CCIL Soho Outreach Centre, such as Ashely Yu. They make it very clear their services' popularity has led to a need for more space. CCIL remains committed to the Lord's work and their original mission, throughout their success in reaching more and more communities: "We thank God that, over the years, we have been adhering to this original vision of "where the Chinese are, there Christ must be" and continuously spreading the gospel among the Chinese in London" ("Our History.").
Works Cited
Chinese Church in London. Carelinks Sunday 2015. N.p.: Chinese Church in London, 2015. Chinese Church in London. Chinese Church in London, 2015. Web. .
The Daily Mirror. "493 Waited For Safety: Wiped Out". 1940: 2. Web. 29 May 2017.
"London – Faith – Chinese London." BBC. BBC, 2008. Web. .
"New Leaf Counseling Service." Chinese Church In London. N.p., 2017. Web. .
"Our History." Chinese Church in London. Chinese Church in London, 2017. Web. <https://ccil.org.uk/en/about-us/our-history/>.
"Outreach." Chinese Church In London. N.p., 2017. Web. .
Shu-Yeng Chung, Simone. "The Study Of Chinatown As An Urban Artifice And Its Impact On The Chinese Community In London". Masters of Science in Advanced Architectural Studies. University College London Print.
"Soho Outreach Centre." Lengard. N.p., 27 Jan. 2017. Web. .
Stonelake, Richard. A City Not Forsaken. 2nd ed. Oswestry: Quinta Press, 2005. Print.
Yu, Ashley. "Interview about CCIL." Personal interview. 27 May 2017.
"Who Are The Strict Baptists?". Strict Baptist Historical Society. N.p., 2017. Web. 28 May 2017.